Campfire Cooking Tripods.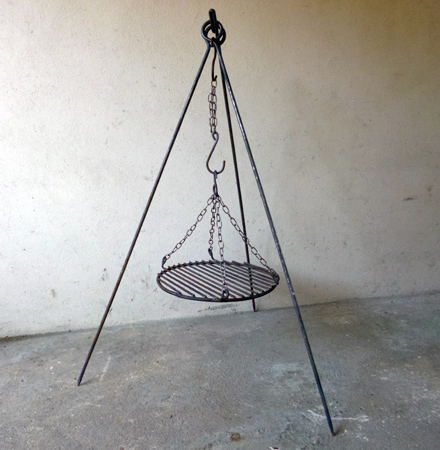 Cooking out in the wilds over an open campfire is a real treat, and one that everybody should enjoy whilst camping. Our tripods are perfect for outdoor cooking, well suited for individual camping or for large groups and gatherings, such as scouts, forest schools, bushcraft courses and other outdoor events. They also make great additions to gardens for outdoor cooking and barbeques.
All of our tripods are made from solid 10mm steel and hand forged here in Dorset. They come in two different sizes depending on your cooking needs, either 110cm legs or 150cm. Each tripod is supplied with a set of hooks and a length of chain to hang your cooking pot from.
The 110cm tripod can be used in two different configurations, as seen on this page. They can be used either as a conventional tripod or two of the legs can be driven into the ground and the third placed between the two. This will give you room to cook multiple items.
The 150cm tripod comes with all three legs attached and can only be used as a tripod. This is due to the length of the legs.


To find out more click on the links below:
We're excited to announce the launch of our new dedicated Campfire Cookshop selling all of our outdoor cookware. Please click below:

www.campfirecookshop.com

Follow us on instagram here
The rustic cooking experience.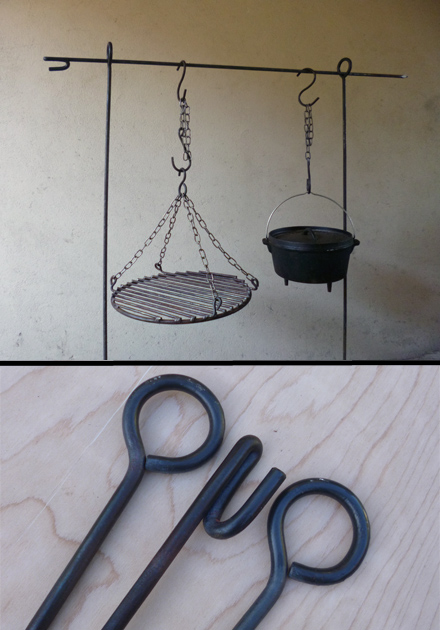 Very, very easy to set up.

As a hanging rack it's really lovely, very simple to do and gives absolutely loads of room to cook.

All in all this is a superb campfire set, easily carried, versatile and effective and you can't ask for better than that, it really does come with a very high Buzzard recommendation.

A brilliant rig!
Read the full review given by Buzzard Bushcraft here.
More Feedback: "Can't wait to get the fire lit, great item"
"Fantastic, thank you, I'm delighted with the tripod."
"Excellent service and very helpfull. The tripod is very sturdy and great quality"
"Very happy indeed! Fantastic seller & craftsman, fast delivery. Thankyou!"

Care of Products
All of the items come with a thin coating of vegetable oil to offer protection from the elements. This is a food safe product and it is recommended to re-coat the items after use or if any rust starts appearing.